Let's get our money out of dirty coal, oil and gas, and into a

clean energy future!
Image credit: Samara Teague
Hostplus invests around $50 billion on behalf of over a million Australians, making it one of the biggest and most powerful super funds in the country.
Hostplus invests on behalf of hundreds of thousands of young Australians working in cafes and restaurants, as well as workers in the tourism, sports, and recreation sectors, which face the brunt of climate impacts. 
Members want to see their fund investing in a clean, renewable future that protects the places and activities we love, not the polluting industries of the past.
Tell Hostplus to get our retirement savings out of dirty coal, oil and gas, and into the 21st century!
Join the movement!
Complete this form to join the campaign calling on Hostplus to get our money out of companies undermining climate action.
Hostplus Divest is a Market Forces project. By leaving the "I want updates about other Market Forces campaigns" box checked, you will be subscribed to receive email updates from Market Forces. You can opt out from these updates at any time. To learn more about how your personal information is handled, see our privacy policy here
What is Hostplus investing in?
Origin Energy 
Amount invested: $61.7 million
Origin Energy's coal power generation is a major contributor to Australia's emissions, and the company wants to continue operating the country's largest coal power station until 2032.
But Origin's climate and environmental destruction doesn't stop there. It's also a major oil and gas producer, with plans to open up the Northern Territory's massive Beetaloo gas field to fracking. The project is opposed by Traditional Owner advocates such as SEED, Australia's first Indigenous youth climate network. SEED views the Beetalo project and broader plans to frack gas in the Northern Territory as a threat to community self determination, Traditional Owner land rights and the climate.
According to Professor Ian Lowe of Griffith University, "approving the proposed development of shale gas from the Beetaloo Sub-Basin or McArthur Basin would add very significantly to Australia's greenhouse gas emissions in the critical period before 2030, when we are required by the Paris agreement to achieve significant reductions".

AGL
Amount invested: undisclosed (outside 100 largest Australian equity holdings)
AGL is Australia's biggest climate polluter, thanks mostly to its feet of dirty old coal power stations in NSW and Victoria. Hostplus might argue AGL is also investing in renewable energy. But the fact is AGL plans to operate its most polluting coal power station until 2048, almost two decades after the date by which wealthy countries like Australia need to be completely off coal power.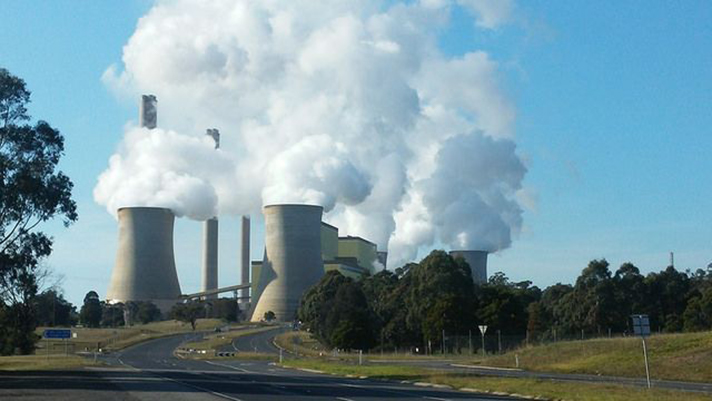 BHP
Amount invested: $539.7 million
Mining giant BHP is one of the 20 largest contributors to global greenhouse gas emissions in history, and its total annual carbon footprint – including emissions from BHP's coal, oil and gas products being burned by its customers – is bigger than Australia's total emissions each year.
Despite recently starting to talk a good game on climate, BHP continues to mine coal and is planning to expand its oil and gas production, despite the need to rapidly shift away from polluting fossil fuels to renewable energy sources. In fact, the emissions caused by BHP's oil and gas expansion plans would dwarf the targets the company has set to reduce its own operational emissions.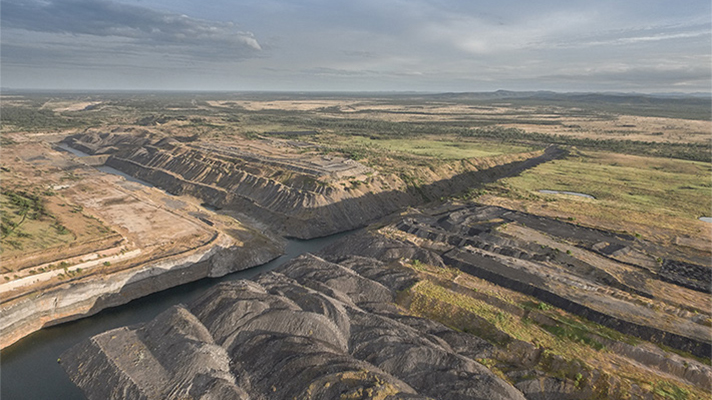 Whitehaven Coal
Amount invested: undisclosed (outside 100 largest Australian equity holdings)
Unlike many of its big industry super fund peers, Hostplus has no exclusion on coal mining investments. This makes it highly likely the fund invests in Whitehaven Coal.
Whitehaven has a long history of trashing local communities and the environment.
The company's Maules Creek coal mine is one of Australia's most controversial mining projects. Despite a massive community campaign that included a two year blockade, Whitehaven bulldozed hundreds of hectares of critically endangered forest to build the Maules Creek open cut coal mine.
Whitehaven's coal mines are renowned for a litany of environmental breaches, with Maules Creek one of only three mines in NSW with a maximum environmental risk rating.
Not content with its already massive coal mining footprint and the climate pollution caused by the use of its dirty product, Whitehaven wants to almost double its coal production over the next decade.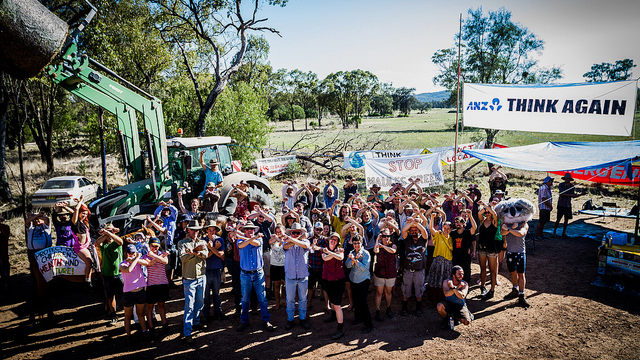 Woodside Petroleum
Amount invested: $88.4 million
Woodside is Australia's biggest gas producer. Despite climate scientists from Australia and around the world repeatedly telling us there is no room for expanding gas production in a safe climate future, Woodside is planning to increase production by around 70% by 2028.
The company's massive Burrup Hub LNG expansion project would generate emissions equivalent to 35 coal fired power stations operating for the project's entire proposed 50 year lifetime.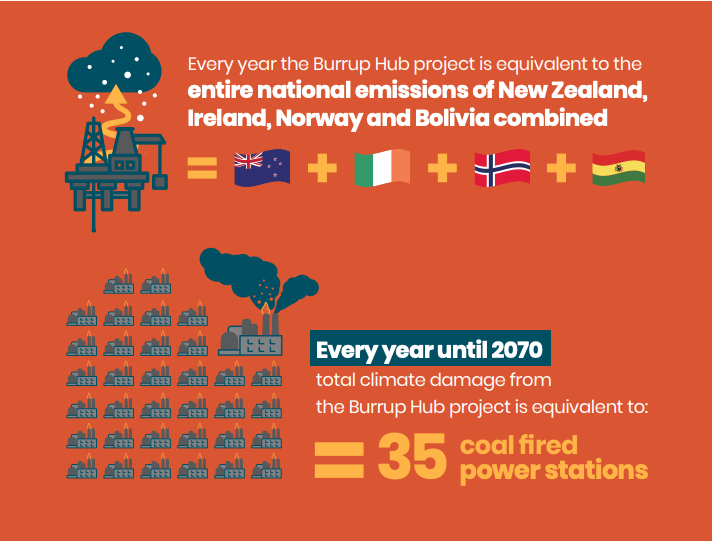 Santos
Amount invested: $73.5 million
Santos is one of Australia's largest gas producers. And just like Woodside, the company plans to massively increase production, taking us in completely the opposite direction to the clean, green future we need.
Santos is planning to develop the $3.6 billion Narrabri coal seam gas project in northern New South Wales. The project could produce gas that, when burnt, could add carbon emissions equivalent to between 3,300 – 6,600 cars every year! On top of this, experts have highlighted the project's significant potential impacts on Aboriginal cultural heritage, groundwater, and local bush and farm land.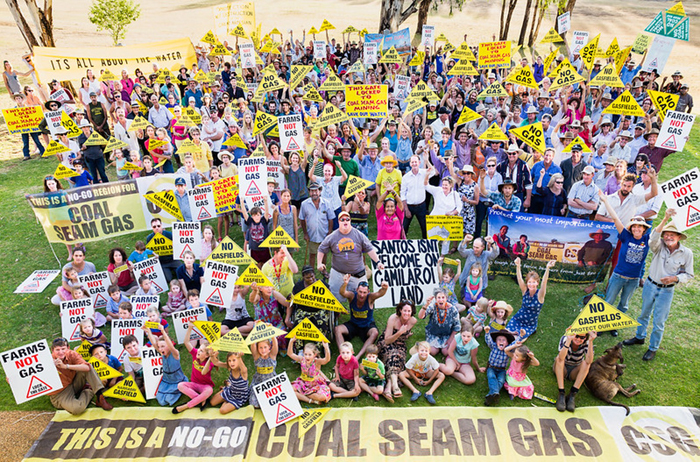 What should Hostplus be doing?
Hostplus members are calling on their super fund to:
Stop investing in any company that is undermining the climate goals of the Paris Agreement by expanding the scale of the fossil fuel sector or basing their future business prospects on scenarios where we fail to meet the Paris climate goals. 
Learn how Hostplus is falling behind other super funds on climate action
With many of its big industry super fund peers starting to dump fossil fuel investments, Hostplus is being left behind. We need to see the fund not only meet the minimum standard set by its peers, but become a true climate leader.
Internationally, the New York state pension fund recently set a great example for Australian super funds to follow. The US$226 billion fund had already divested from coal producers, and in December announced a plan to sell out of oil and gas companies, and completely decarbonise its investment portfolio by 2040.
Back home, 8 of the largest 40 super funds – Aware Super, Hesta, UniSuper, Suncorp, NGS Super, Vision Super, Local Government Super, and Media Super – now explicitly exclude investments in companies whose main business is mining coal for power generation (known as thermal coal), such as Whitehaven Coal and New Hope Group, while AustralianSuper confirmed it divested from Whitehaven Coal in 2020. 
Local Government and NGS also exclude investments in coal power generators like AGL, and Suncorp will do this by 2025. Aware Super has massively reduced the carbon footprint of its investments by selling shares in some of Australia's dirtiest companies, including AGL and Origin.
Suncorp, which is mostly an insurer but also has a retail super fund, has announced a plan to phase down its investments in oil and gas production to zero by 2040. This policy will eventually see divestment from companies like Woodside, Santos and Origin Energy, whose oil and gas expansion plans are totally inconsistent with the climate goals of the Paris Agreement. 
There are also a number of smaller super funds that don't invest in fossil fuels at all, which has them clearly leading the way on climate action.

You can use this table to see how Hostplus compares to other super funds on climate action.
Take action! Use the form on this page to join the campaign calling on Hostplus to get our savings out of dirty fossil fuels: